Core Spreads Are Now Trade Nation
Core Spreads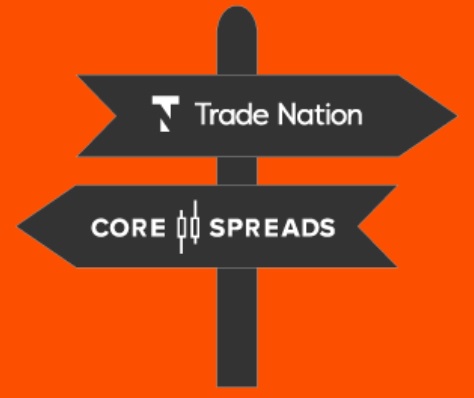 Core Spreads is the latest FCA-regulated, online financial spread betting broker founded in September 2014, offering traders a simple, no-frills trading platform that's both intuitive and easy to use. Core Spreads is a privately owned FCA-regulated broker offering spread bettors very tight and fixed spreads on a wide range of markets.
In September 2015, Core Spreads started offering CFD and forex trading on MT4. Customers can trade a range of CFD products on a well know MetaTrader 4 with the same tight spreads and very low commission.
Minimum deposits requirements are low, and the degrees of leverage on offer are generous, allowing traders access to the full scope of what spread betting has to offer. You won't see daily market analysis or news, no fancy charts or the "free" stuff you never use, all they offer is a simple and fast trading platform with very tight fixed spreads.
Due to the lack of interest, in April 2015, Core Spreads stopped offering trading credit. Financial spread betting is already a highly leveraged instrument and credit accounts could lead to considerably higher losses.
Notable Benefits
One of the primary benefits of choosing Core Spreads is the thin spreads offered on virtually all the markets. Because Core Spreads don't offer any expensive trading tools for free, they have considerably lower operating costs than many larger brokers, and can consequently afford to offer better spreads to their customers. This can be the difference between a winning trade and a losing one, so it's important to try to get the most competitive spreads possible, which for most of the markets Core Spreads can offer.
For those who are at a more preliminary stage of their trading career, or for those who are simply looking to gem up on certain areas of their trading knowledge, Independent Investor offers access to extensive training resources and how-to guides, through our trading sections.
One thing for certain, Core Spreads are dedicated to cutting on marketing, daily analyses, news and other add-on costs to make sure they offer very competitive and fixed spreads to all their clients (not sure if you will like their platform? Not to worry, they offer a one-click demo platform access, no need to fill in your details).
Incentives & Bonuses
So if you're looking for a spread betting account with an easy-to-use and flexible platform, very competitive, fixed spreads, a decent range of markets to choose from then you might want to check Core Spreads.
Core Spreads Updates
Update: From April 2015, CoreSpreads have discontinued offering their clients trading credit. The move reflects the nature of financial spread betting and forex trading as these products already use heavy leverage.
Update: From March 2015, updated the spreads for UK shares: FTSE100 equities: 5 bps per leg, Non-FTSE100 UK equities: 15 bps per leg. It means that trading FTSE100 shares just got cheaper as it's down to 0.05% from 0.07% but other UK shares got a wider spread.
Update: From September 2015, Core Spreads now offer CFDs and forex trading on MT4. From September 2015, customers can trade around 40 FX pairs, 14 indices, 11 commodities, 112 UK equities, 86 US equities, and 100 EUR equities on MetaTrader4. Customers can now spread bet and trade CFDs and if one has already a spread betting account then they can also have CFD account.
Update: From November 2015, from this weekend (14/15th November 2015) Core Spreads are amending the 'in hours' fixed spreads they offer on two US markets:
1. US SPX 500 future – the current in hours fixed spread is 8pts, the new in hours fixed spread will be 6pts.
2. US Tech 100 rolling spot – the current in hours fixed spread is 0.4pts, the new in hours fixed spread will be 1pt.
Where relevant these changes are applicable to both CoreTrader and Core MT4 platforms.
Update: From December 2015, changes to log-in process. Now, when you log in to your Core Spreads account you'll be taken to the client portal area from where you can launch the CoreTrader platform in one click, download MT4, create additional accounts, manage funds and update personal details.
Update: From January 2016, Core Spreads introduced the new trading platform which is a big improvement from CoreTrader1. Please note, the web version will update automatically whereas new app should be downloaded. This weekend (9th/10th January) the new CoreTrader 2 platform is going live. If you trade using the web interface you will not need to do anything, they'll close as usual this Friday and when they reopen on Sunday at 10pm you can log in as normal and launch the new web platform from the client portal.
What's changed?
Over the last year they've listened to customer feedback and CoreTrader 2 will offer the following improvements:
•    Advanced Charts as standard: choose from scores of technical indicators on a highly intuitive interface, personalise your chart profile, save it easily and load it quickly.
•    Zero deposit and withdrawal charges: on the new platform they've decided to buck the trend and will not charge you to deposit or withdraw.
•    Tighter FTSE 250 equity spreads: they're reducing spread from 15bps to 10bps per leg.
•    Better Execution: faster pricing and a smarter server set up means you're likely to experience fewer trade rejections on fast moving markets.
•    Easier to use Apps: they've completely redesigned the apps for iOS and Android, trading on the move will be easier than ever.
•    A host of Client Requested Improvements: including netted margin when hedging, smart search, the ability to set default trade sizes by market and much more.
Update: From October 2016, differential markets are added. Have recently added some Weighted Differential (Future) markets to their Core Trader 2 platform.
Update: From April 2017, some changes to margin requirements in respect of South African FX markets on CT2 and MT4 platforms. Due to the credit rating downgrade of South Africa as a country, in addition to increasing political tensions, increased and continued volatility is expected. As a result, the following changes will become effective at 07:00am on the 10th April 2017 BST – USD/ZAR 4% IMR, GBP/ZAR 4% IMR, EUR/ZAR 4% IMR.
Update: From July 2017, from Midnight BST on the 31st July 2017, the Core Spreads Loyalty Scheme will no longer be made available to clients using the Core MT4 trading platform. Loyalty points accrued in prior months will be applied to trading activity in July and rebates, if they are due, will be credited to your account by the support team. Please note that users of the Core Trader 2 platform will continue to accrue Core Points.
Update: From November 2017, for the whole of advent on each working day we will be treating our clients to cut-priced spreads, 50% off a different popular market every Monday-Friday from the 1st to the 22nd December (offer only available on the CoreTrader platform) – OFFER EXPIRED.
Update: From December 2017, that Core Spreads has won the Best Value Forex Broker award at UK Forex Awards 2017.
Update: From January 2018, Skrill is now one of the alternative payment methods.
Customer Reviews of Core Spreads:
(we don't accept any more customer reviews for this broker)
Don't Trust Their Charts (30-04-2018)
They failed to honour a stop that I had set, which was based on the price behaviour on their charts. When challenged, they claimed that their "charts are indicative only, and do not truly represent the the price behaviour of the underlying market". Most SB brokers provide charts that sometimes deviate slightly from the true markets. The honest brokers will honour any trading decision their client makes, that is based on the broker's charts. Needless to say, I ditched CoreSpreads.
ignorant staff and different spreads (30-06-2017)
Corespreads is very big scammer , they close your positions and Hit SL and even other brokers have different feeds. Delay withdraws and never give you profit when u r trying to withdraw. Not recommended Stay away from corespreads.
Just another retail broker (21-12-2015)
I am a professional trader based in the UK, a few months ago I came across their website in the middle of a thorough review of spread-betting/covered index & fx brokers (which by the way, was by no means very fruitful). Their prices seemed better than other brokers; I also called their customer service and could speak to them which is always a good sign. There ends the positive review. I created a small live account of 25K GBP to test their services – a trader is never prudent enough. CS is just another retail broker (it does not matter if they do spread betting, covered or retail fx, I put all of them in the same basket). During this live testing, I could see that while their CS is reachable they only show how junior they are on markets that they don't know. Wrong information provided, untradable markets, a platform that I had to help them setting up (!). In terms of platforms, they only offer the hideous MT4 and a useless web-based tool. This left aside, I could suffer the same dubious behaviour of any modern retail broker – if you win they lose and vice-versa. With this in mind, less spread of commission will only means traders are stolen their money a bit slower. Back to my ECN broker and I will not look behind. Goodbye forever CS.
Spreads very good (05-02-2015)
Have started trading with Core Spreads recently and it's been a good change for me mainly because the spreads are very good. They also sent me a new book on UK shares so that was a nice surprise and unexpected. Will continue to use them.
Poor (12-01-2015)
I opened a demo account and made one trade but the trade did not appear in my trading account. The cash balance and trading resources showed I had made a trade but nothing appeared in the 'open positions'. After trying and waiting for a long time I gave up. I liked the clean uncluttered trading screen but its of no use if one's trade don't show up. ?
Simple platform and great spreads (30-09-2014)
Opened an account with Core Spreads last Friday and am loving the 0.8 FTSE 100 spread. I have started trading £5-10 per point so it does make a difference. Also the £10,000 welcome offer is good, I should get an extra £300 in my account by the end of Oct! I like the simplicity of it all and would recommend to others.