Forex and CFD affiliate programs offer some of the highest commissions in internet marketing industry and are an effective way to earn a good amount of money. Many website owners, bloggers, internet marketers, and social media influencers have successfully implemented affiliate marketing to grow their income. If you're just starting out or already have a decent amount of traffic to your website or social media profiles, you can take advantage of the high payouts and grow your revenue through affiliation with CFD and forex brokers.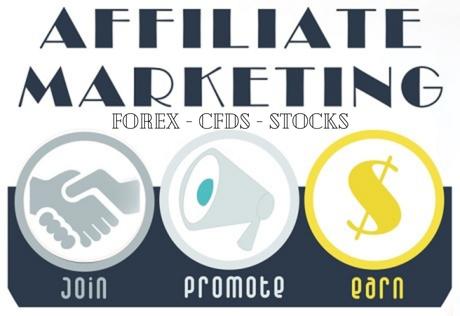 Remember that bringing new forex clients may be difficult and challenging but extremely profitable. A variety of elements will influence the effectiveness of the forex affiliate program and selecting reputable and trustworthy brokers to work with is very important but firstly you need to decide what commission structure you prefer and then select brokers accordingly.
Commission structure is something affiliates have to think about beforehand as it will dictate how much and when they get paid. What structure to use is entirely up to you and depends on the traffic and potential clients; as a rule of thumb, you'd want CPA if you refer a lot of small traders and revenue sharing if you sign up big clients. Remember, the more they trade the more money you will make on revshare whereas on CPA you'll get the same amount regardless.
Cost Per Acquisition (CPA)
Lump sum payment for every qualified client, can be as high as $1,000 per trader (depends on country tier)

Same commission regardless of trading volume

No future commission (rebates)
Revenue Sharing (Revshare)
Get paid a share of revenue generated by your referred traders as long as trade and stay active

Depends on trading volume and position size

No sign-up commission, only a share of revenue
* Some brokers might offer hybrid commission (some sort of a combination of CPA and Revshare) but it's not very common
Best Performing Affiliate Programs
More Forex Affiliate Programs
| | | |
| --- | --- | --- |
| IG | Forex, CFDs, Financial Spread Betting | Up to $800 CPA |
| eToro | Forex and CFDs | Up to $250 CPA |
| AMarkets | Forex and CFDs | Up to $500 CPA |
| SpreadEx | Forex, CFDs, Financial Spread Betting | Up to £250 CPA |
| CityIndex | Forex, CFDs, Financial Spread Betting | Up to $500 CPA |
| AAATrade | Forex and CFDs | Up to $500 CPA |
| Admiral Markets | Forex and CFDs | Up to $600 CPA |
Basics of Forex Affiliate Programs
Affiliates connect possible new traders to brokers in the forex market. When a new potential trader selects the link or banner supplied by an affiliate and then registers to trade with the broker, the referral works. That trader will be identified as a client of the affiliate who referred him or her.
Because of the substantial payments that might be earned, CPA's and commissions in this area are often higher than average. For your marketing plan, we have a variety of top forex and CFD affiliate networks in our database.
A forex affiliate partnership is a type of third-party marketing in which an affiliate successfully recommends a certain broker to traders. An individual will be compensated for making referrals, generally in the form of money. Direct recommendations, banner advertising, and full-scale internet marketing are all examples of how referrals are obtained.
Any affiliate's ultimate objective is to effectively convert interest into account registrations by using supplied links. Depending on the degree of work, each affiliate program might be a big-time or small-time enterprise.
Your preferred forex broker should be a trustworthy partner. Their withdrawal terms should be explicit, and they should have dependable liquidity providers and secure storage choices for their clients' funds. Importantly, as an affiliate, you want a broker that will assist you with marketing and give the finest possible service. The following are some of the marketing tools to consider: banners to be shown, posts on social media, promotions that are tailored to you, digital platforms with useful information.
Final Thoughts on Forex and CFD Affiliate Marketing
Nowadays, you need to be cautious about becoming a forex or other derivatives affiliate because affiliate marketing is such a competitive sector. If you engage with reliable brokers and select the finest FX affiliate program, it may be a profitable channel. To assist in attracting traffic and earning more money, you should use the best affiliate marketing methods and practices. Then, by suggesting traders or investors to a certain broker, you may start earning commissions and other incentives.
Affiliate relationships in CFD (financial spread betting) and Forex are the most rewarding in the affiliate marketing sector. In reality, when working with the appropriate brokers, especially the ones that provides flexible and large payments, a professional CFD and Forex affiliate marketer can possibly make a lot of money each month in commissions.